Career Readiness Days 2016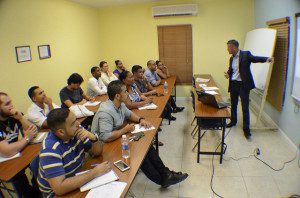 At least once each quarter, ICCI hosts a career emphasis activity where classes are suspended and all students are directed to activities focusing on preparing for professional practice. This speaks to the ICCI mission which is to "prepare students for career placement and enhancement."
During Career Readiness Days students can take advantage of workshops, skill building sessions, resume reviews, mock interview activities and other events designed to assist students and job seekers with career and college transfer preparation.
Career Readiness Day 
May 5, 2016 
Thanks to all of the presenters and students who turned out for the Spring Quarter 2016 Career Readiness Day!   We appreciate your participation in advancing our mission of "career placement and enhancement" to benefit our students.
Coordinator: Dean Melisa Hamilton 
Technical Assistance: Michelle Gray-Williams, Librarian 
Hospitality: Lisa Wood, Business Office Manager
CIIPA Liason: Dr. Alicia Law, Associate Professor of Business
Click here to see the list of student and faculty participants
To see photos of the event, click here!
Spring 2016 Career Readiness Workshops Schedule
Click here to see bios for the Spring 2016 Career Readiness Day Presenters
5:30 PM Session
Room CS1
EY, Pathways to Accounting/Finance, Career/Internship Opportunities
Presenters: Richard Horton, Senior Audit Manager, EY; Dawn McLean-Sawney and Yoli McCoy
Room MH1
Role of CIIPA, Pathways to Accounting/Finance,
CIIPA-ICCI Mentorship Program Launch at ICCI
Presenters: Natasha Playne and Lauri Webster
Room MH 2
Resume Writing and Interview Techniques, One-on-One Resume Reviews
(Students, please take their latest Resume for one-on-one session)
Presenter: Neil Randell, CML
6:30 PM Session
Radio Cayman, Career/Internship Opportunities,
40th Anniversary Presenter: April Cummings Room FH4
5:30 p.m.
Room FH 1
NWDA, Internship/Career Opportunities and Job Search Resources
Presenter: Dianne Conolly
Room FH 2
ICCI Accounting/Finance Club/CFA Challenge Soft Launch
Presenters: Robert Tate and Craig Walker
Room FH 4
First-time Author Experience, Writing Across Curriculum
Presenter: Janet Dash-Harris
Room FH 5
Happiness 101: Work-Life Balance, Stress Management
Presenter: Dr. Alexandra Bodden, BHAC
Room CS 2
Career Readiness Day, Winter Quarter March 10, 2016
Presenters:
Walkers: Anthony Partridge, Jordanna Clarke and Renee Prendergast
Legal Scholarships, Articled Clerkships and Career opportunities. 5:30pm
Anthony Partridge  is based in the Cayman Islands where he is senior counsel in the Global Trust Group of Walkers. Anthony specializes in all aspects of non-contentious private trust matters, cross-border succession matters and has particular expertise in resealing foreign grants in the Grand Court of the Cayman Islands.
Anthony advises trustees, settlors, beneficiaries, protectors and enforcers on all aspects of non-contentious trust law including complex trust structures for estate planning and asset protection purposes, the establishment of private trust companies (PTCs) and the use ofSTAR trusts in investment fund structures. Anthony also advises executors, beneficiaries
and on-shore counsel in relation to applications to reseal foreign grants of probate and letters of administration in deceased estates, as well as drafting wills specifically tailored for assets located in the Cayman Islands.
NWDA: Diane Conolly Job search resources for Caymanians and role of NWDA  5:30pm
Dianne Conolly is certified trainer with significant expertise in Human Capital Development, holds a Master's Degree in Public Policy and Management, and is a certified trainer and member of the American Society for Training and Development. Ms Conolly joined the NWDA in 2014 and currently manages the NWDA's Training and Development Unit where she is responsible for managing several initiatives such as the National Training Programme, the National Apprenticeship Programme, the National Mentorship Programme and the National Internship Programme.
Cayman Enterprise City: Hilary Cahill and  Marilyn Conolly – Info on Cayman Enterprise City, Career/Internship Opportunities 6:00pm
Ms. McKenzie-Cahill is Vice President of Marketing for Cayman Enterprise City and has been involved with the project since its inception in March 2011. She is responsible for the strategic development and implementation of CEC's international marketing, communications, lead generation and business development.  Ms. McKenzie-Cahill brings 25+ years of marketing and business development experience to the project and has called Cayman home for the past 22 years. Hilary has held several senior level management roles during her tenure in Cayman, with either Caribbean regional or global responsibility. Hilary is a serial entrepreneur and investor in several businesses in Cayman and prior to arriving here was a founding partner of a highly successful European development group that marketed master-planned developments throughout Spain and Germany. She studied E-Commerce with UCLA and went on to become one of Cayman's first Internet entrepreneurs as co-founder of www.ecaytrade.com and www.ecayonline.com.
CISPA: Vanessa Hansen, Natasha Playne and Simon Garnett -Role of CISPA, Pathways to Accounting, Mentorship Program at ICCI 6:00pm
Simon Garnett brings almost 30 years' experience to his current role as the Chief Financial Officer of Sackville Bank here in the Cayman Islands. He had previously been Head of Finance for Cayman National Trust Company, and later, Group Head of Internal Audit for Cayman National Corporation. Before then, he spent eight years with RBC Wealth Management in Cayman, where he was Regional Head of Finance for the Caribbean.
Simon qualified as a Certified Accountant in the UK in 1994 and was admitted to membership in early 1996.  He is a member of the Cayman Islands Society of Professional Accountants and former chair of the Cayman Islands Chamber of Commerce's Leadership Cayman Programme.
Natasha Playne is a Fellow Chartered Accountant (FCA) and a Fellow of the Australian Institute of Company Directors (FAICD). She graduated in 1986 from the Queensland University of Technology with a Bachelor of Business majoring in accounting and a minor in computer programming. Natasha has over 30 years of accounting experience, including being a partner in a forensic accounting practice in the UK and Australia, a few years as a CFO and many years as an educator and trainer.
Natasha has been in Cayman for four years. She volunteers at the National Workforce Development Agency teaching job seekers accounting and bookkeeping. She also volunteers with CISPA and is chair of CISPA's Careers & Mentoring sub-committee.
CML: Steve McIntosh Techniques in Resume Writing and Successful Interviews, One-on-One Resume Review Sessions 5:30pm
HR Dept. Health Regulatory Services:  Lyria Josephs  Professionalism in the Workplace 7:00pm
Biography:
I have earned Registered Nurse, Bachelors Degree in Nursing and Masters of Science in Human Resources Management, and had fulfilled many nursing roles at Health Services Authority over a 23 &1/2 year of employment there. I am currently serving as the Registrar for the Health Practice Councils in the Cayman Islands and Deputy Director for the Department of Health Regulatory Services.
Behavioral Health Associates Cayman: Dr. Alexandra Bodden  Stress Management and Educational Assessment 7:00pm
Mario Rankin Businessman Life as an Entrepreneur in the Cayman Islands and tips on succeeding in business 7:00p m
Click here to see photos from Career Readiness Day Fall 2015